Standard Referral Program
For Group Health, Individual Health and Medicare 
Here is how the program works:
Provide Flex with the contact information for your referral. A licensed sales representative will 
contact your referral to review their situation and plan options. For any plan that is sold you'll be 
entitled to a one-time referral fee. Below is a list of the referral fees payable for each sold policy.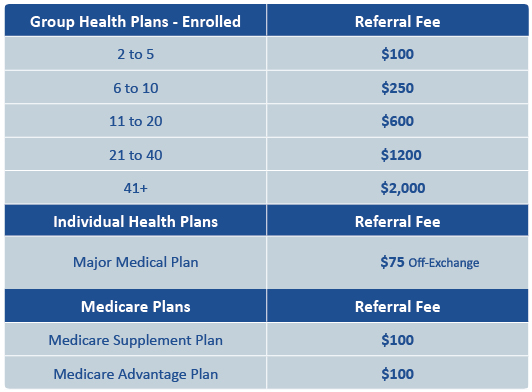 Note: You must have a valid health insurance license to earn a referral fee.
Disclaimer: There is no cap on the number of referral fees that can be paid each year. Referral fees will be paid out after three consecutive months of premium payment is paid by the policy holder. This agreement supersedes and replaces any and all previous agreements between the parties and is subject to change without prior notice.
Contact a Flex Sales Consultant at 888-353-9178 to learn more.