2014 National Employee Benefits Day
Posted on April 2nd, 2014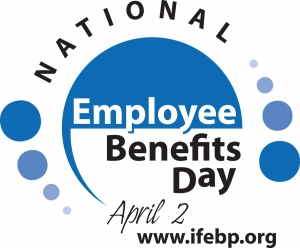 Each year on April 2, the International Foundation of Employee Benefit Plans (IFEBP) champions the effort to recognize all those who participate in the employee benefits industry and their hard work. As an IFEBP member, Flexible Benefit Service LLC (Flex) wants to thank you for your business and remind you to participate in the festivities, as well.
This year's theme is centered around retirement benefits and financial wellness, which for us as a benefits administrator of consumer driven health plans, brings Health Savings Accounts (HSAs) to mind. 
Here are some of our previous blog posts on HSAs:
Our solution, FlexHSA® provides the ideal combination of services that simplifies the HSA experience for any individual, employee or employer. Learn more about FlexHSA.
Learn about the key differences in some popular account-based plans with our Flex Plans Comparison Chart and have a very happy National Employee Benefits Day!