7 Summer Essentials You Didn't Know Were FSA-Eligible
Posted on June 25th, 2021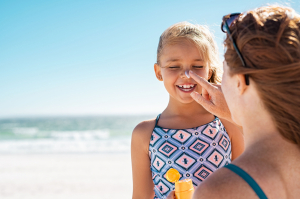 Summer is finally here! For many people, the arrival of summer means vacations, backyard barbeques, and lots of time spent in the great outdoors. With all the summer fun you'll be having, you're probably going to want to stock up on some essential products to help you look and feel your best this season.
It may surprise you to learn that many of these products are FSA-eligible. That means that you can use your Flexible Spending Account to pay for them tax-free!
We've put together a list of 7 FSA-eligible summer essentials to help you make the most of your summer, and your FSA.
1. Sun Protection Products
With all that extra time spend outdoors, you're definitely going to want some sun protection. Sunscreen with broad-spectrum UVA and UVB protection and an SPF of 15 or higher is FSA-eligible. This applies to a wide variety of products that you probably use every day, including sunscreen sprays, waterproof sunscreen, sunscreen for children and babies, even SPF lip balm.
2. Aloe Vera Gel
Let's face it, we don't always remember to reapply sunscreen as often as we should. Don't worry, it happens to the best of us! If you do get a little too much sun, you can use your FSA to purchase some soothing burn relief gel. Aloe vera creams and gels, or other sunburn creams and ointments are all FSA-eligible expenses.
3. Prescription Sunglasses
A pair of prescription sunglasses can help protect your eyes from the sun and make you look extra stylish this summer. Those designer frames you've been eyeing will be a lot more affordable when you use your FSA to pay for them tax-free!
4. Bug Bite Care
When it comes to summer, bugs are unfortunately part of the package. If your picnic in the woods leaves you covered in itchy bites, you can use your FSA to help get some much-needed relief. There is a wide variety of bug bite products eligible under the FSA, including anti-itch creams and roll-on sticks, and even cool little gadgets to suck out the insect venom. Preventive bug sprays, however, are not an eligible expense.
5. Bandages and First Aid Items
If you have little ones, summer can mean a steady stream of cuts, scratches, bumps, and bruises. The good news is that first aid supplies are eligible under your FSA! You can use your FSA to purchase bandages, first aid kits, antibiotic creams and ointments, alcohol wipes, and many other necessities.
6. Shoe Insoles and Orthotics
Do you love to take long summer hikes? Maybe you're playing in a summer softball league or training for a half-marathon? If so, you can use your FSA to pick up some pain relief insoles, arch supports, or other cushioning products. Plus, if your summer sports leave you with sore muscles, hot and cold packs and pain relief creams and gels are covered as well.
7. Motion Sickness Medication
Planning a cruise, road trip, or trip to the amusement park this summer? You can use your FSA to buy a variety of motion sickness medications and even nausea relief wrist bands.
 
These are just a few examples of FSA-eligible items to help make this the best summer ever. Check out FSA Store to find all of these and more.
Use coupon code FlexLLC5 to save $5 off your order!