COBRA Early Termination Rules
Posted on March 1st, 2023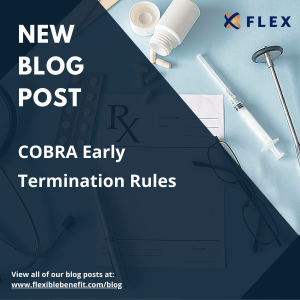 The Consolidated Omnibus Budget Reconciliation Act of 1985 (COBRA) requires employers with 20 or more employees to offer continuation coverage under a group health plan for periods of 18, 29 or 36 months depending on the qualifying event. Qualifying events generally include a loss of coverage due to 1) termination of employment, 2) a reduction in hours, 3) an employee's entitlement to Medicare, 4) death of the employee, 5) divorce or legal separation from the employee, and 6) a dependent child reaching the maximum age limit to be covered under the plan.
 
An employer may terminate COBRA coverage early only if one of these situations occurs:
✓ The required premium is not paid on time considering any applicable grace period for late premium payments (usually 30 days).
✓ The qualified beneficiary becomes entitled to Medicare after electing COBRA.
✓ The qualified beneficiary becomes covered by another group health plan after electing COBRA.
✓ The employer terminates the group health plan for all employees.
✓ If the maximum coverage period has been extended under the 11-month disability extension and the qualified beneficiary is no longer disabled, the COBRA disability extension may be terminated early.
✓ For cause (e.g., filing a false benefit claim).
 
A written notice must be provided by the employer whenever COBRA coverage is terminated early.
 
Did you know that the COBRA regulations do not state that an employer can terminate COBRA coverage early when a qualified beneficiary voluntarily requests that coverage to be terminated early?
This generally means an employer should wait to terminate COBRA coverage until an early termination right exists. This will usually be the late premium payment early termination right. A more technical read of the regulations would suggest keeping coverage active until the late premium payment grace period has expired, and then the employer could terminate coverage.
 
Some employers may terminate COBRA coverage as of the date a qualified beneficiary requests such coverage to be terminated. In these situations, COBRA coverage should be reinstated with no gap in coverage if the qualified beneficiary changes their mind and makes a premium payment no later than the last day of the late premium payment grace period.