Employee Benefits Deadline Extensions Continue
Posted on January 12th, 2023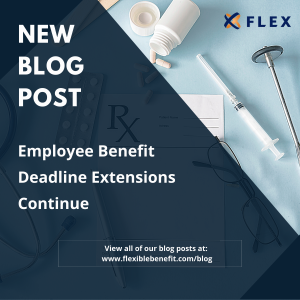 The COVID-19 national public health emergency is set to expire on January 11, 2023; however, the Biden administration is expected to issue another extension of the national public health emergency. It is unknown at this time when the national public health emergency will be declared over.
Pursuant to EBSA Disaster Relief Notice 2021-01, this also means employees and their dependents will continue to have additional time to exercise their rights for group health plans, disability plans, and other welfare plans that are subject to the Employee Retirement Income Security Act of 1974 (ERISA). In particular, employees and/or their dependents have additional time to do the following:
• Enroll in coverage during a HIPAA special enrollment period
• Elect coverage under COBRA
• Make a COBRA premium payment
• Notify a plan administrator of a COBRA qualifying event or a determination of a disability
• File a claim for benefits
• Appeal a claim that was denied in whole or in part
• Request an external review of a final adverse benefit determination
• File information to perfect a request for an external review
Employers, insurance carriers, and benefit administrators are to disregard a period of time that is referred to as the outbreak period. The outbreak period started on March 1, 2020, and it will end 60 days after the COVID-19 national public health emergency is declared over. EBSA Disaster Relief Notice 2021-01 confirms that the maximum length of time that can be disregarded is one year.
This means many individuals will have the normal timeframe to exercise certain rights, plus up to an additional year. For example, there is normally a 60-day timeframe to make a COBRA election. Someone who lost coverage approximately 14 months ago would still be within election period because of the extended timeframes (granted, they would have to pay for the previous 14 months of COBRA coverage).
As the COVID-19 national public health emergency is expected to be declared over in 2023, these deadlines should be closely monitored as the extensions will eventually end. Normal deadlines will apply once the outbreak period is over.