The Latest on Repeal and Replace
Posted on January 31st, 2017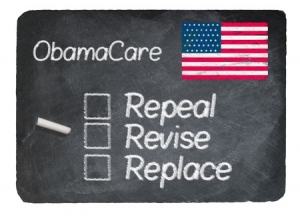 Republican leaders held a retreat in Philadelphia last week to discuss their top priorities, and of course, discussion about the repeal and replacement of the Affordable Care Act (ACA) was on their to-do list. Although Republicans did not agree on a formal repeal and replacement strategy, they did lay out a timeline for their priorities. This includes a goal of introducing repeal and replacement legislation on the House floor by the end of March. It sounds like we are still at least a couple more months away from knowing the fate of the ACA.
However, until that time, President Donald Trump has signed an executive order which instructs Health and Human Services (HHS), Treasury and other agency officials to do everything in their legal capacity to "waive, defer, grant exemptions from, or delay the implementation of any provision or requirement of the Act that would impose a fiscal burden on any State or a cost, fee, tax, penalty, or regulatory burden on individuals, families, healthcare providers, health insurers, patients, recipients of healthcare services, purchasers of health insurance, or makers of medical devices, products, or medications."
The executive order has many people questioning what this really means, and unfortunately, White House officials have yet to give a detailed explanation. In addition, some agency officials have yet to be confirmed or appointed. For example, Tom Price, the nominee to run HHS has yet to be confirmed. HHS is one of the primary agencies that regulates and administers the ACA, and until someone is appointed to head up that agency, it's unlikely we'll see much by HHS in response to Trump's executive order. 
We're still in a bit of a guessing game about what's going to happen, but if we take a look at what department and agency officials did under the Obama administration, we can at least speculate on things that could happen. For one, agency officials previously delayed the implementation of the Employer Mandate. It was originally scheduled to take effect in 2014, but it was generally delayed until 2015 for employers with 100 or more employees and until 2016 for employers with 50-99 employees. Additionally, agency officials previously delayed the due dates for relevant ACA reporting. In the individual market, agency officials created exemptions to the Individual Mandate that were not included in the original law.
As the weeks and months move on, we'll have to watch the actions of Congress to see what laws are introduced (and ultimately passed) that would repeal and/or replace the ACA. We'll also have to watch how department and agency officials regulate and enforce the law, or for that matter, we'll have to watch which parts of the ACA they ease back on with compliance requirements. 
For now, the ACA continues to be the law of the land, and nothing has changed.