New Study Shows the Importance of a More Human Work Experience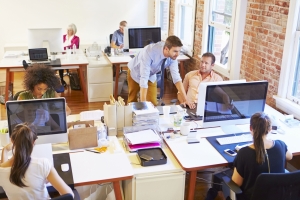 MetLife
recently released their
16th Annual U.S. Employee Benefit Trends Study
, which sheds some light on changing employee attitudes and the need for a shift toward a more human work experience. The study provides interesting insights into what employees are looking for in a workplace and how their needs don't always match up to their reality.
The Empowered Employee
In the current job market, employees are in demand, which gives them the opportunity to dictate the terms of their employment more than ever before. Lower unemployment rates and increased job transparency from sites like Glassdoor have put employees in the driver's seat and given them the freedom to ask for more from their employers. They're not just looking for higher salaries or fringe benefits—instead, they want to feel that their work is purpose-driven and reflects who they are.
In the MetLife study, 60% of employees surveyed felt their work shapes their identity, and 64% felt that their work makes them a better person.
Opposing Views
This increase in employee empowerment has also led to increased confusion as employers and employees try to define a work experience that benefits them both. Each group views the workplace experience differently, and they don't always agree on what makes for a great work experience.
Employees today are looking for experiences that will challenge them personally and help to develop their professional skills. The MetLife study found that while employers are overwhelmingly committed to their employees, a gap exists between what employees need and what they are getting.
According to the study, 77% of employers felt that their companies were committed to the success of their employees. Only 65% of the employees surveyed felt the same way.
The Human Workplace
This is where the concept of the human workspace comes in. Human workplaces recognize that employees have experiences at work and at home that combine to make a meaningful life. They strive to make employees feel valued, respected and encouraged, which can lead to higher job satisfaction and better performance.
MetLife has identified four key components necessary for building a more human work experience:
Both personal and professional recognition can go a long way to help employees stay productive, motivated and engaged. While 60% of the employees surveyed report that that feel appreciated the majority of the time, there's still plenty of room for improvement in this area.
The study found that more than 1/3 of employees surveyed lack trust and confidence in the people leading their organizations. Employees want to know that their employers will do the right thing.
•
Foster Work-Life Enrichment
Over half the employees surveyed felt that the proper work-life balance was the key to their success. However, employees are starting to look for more than just a balance between work and life—they are looking for experiences that enrich both.
Rigid systems and processes no longer work for employees. They have so much choice in their daily lives that they expect to experience the same at work. 71% of employees surveyed indicated that they would like their employer to offer flexible work schedules to help balance their responsibilities at home and work.
Overall, the study found that employees are looking for moments that are human and engaging—the more authentic, the better. Employers who recognize this and take steps to meet their employees' expectations will be more successful in the long run.
If you'd like more information on MetLife's findings, you can read the full study
here
.