Posted on December 20th, 2016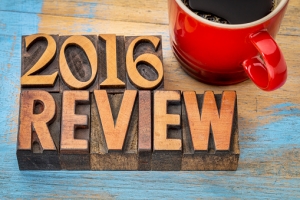 The health insurance industry saw quite the year in 2016. Here are some of the highlights:
ACA reporting had to be submitted for the first time which was an administrative struggle for several employers, but most were able to find a way to get it completed.
 
Several Co-Ops, including Land of Lincoln Health, were forced to shut down due to solvency problems. 
 
Most insurers reduced or eliminated commissions on the sale of individual health insurance plans as a result of profit losses.
 
The circumstances which allow for a special enrollment period in the individual market were reduced to prevent individuals from delaying enrollment in coverage until they became sick.
 
Transitional health plans, also known as grandmothered plans, were provided yet another extension and can continue to be renewed in the individual and small group markets for policy years on or before October 1, 2017, but they must not extend beyond December 31, 2017.
 
The Office of Civil Rights (OCR) announced it was beginning its second phase of HIPAA audits to ensure covered entities and business associates were complying with applicable privacy and security laws.
 
The Centers for Medicare and Medicaid Services (CMS) also began its audit program whereby they reached out to employers by phone and mail to verify if employees were offered health insurance coverage which would eliminate access to Exchange subsidies.
 
New rules related to short-term health insurance plans were finalized causing these plans to be issued for periods of less than 3 months starting in 2017.
 
Qualified Small Employer HRAs were signed into law allowing employers not subject to the Employer Mandate and meeting other requirements to reimburse employees for individual health insurance premiums.
 
Donald Trump was elected to serve as the 45th President of the United States, and he has vowed to repeal and replace the Affordable Care Act (ACA) once he takes office.