Upcoming Webinars: MetLaw for Increased Client Value
Posted on October 26th, 2018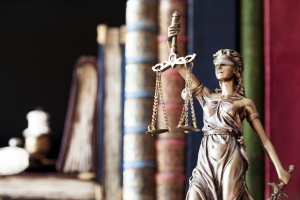 Identity theft, security breaches, and traffic tickets are all things that employees worry about today. When issues like these arise, many people look to an attorney for advice and assistance. Unfortunately, finding an attorney can be stressful and time-consuming—not to mention expensive.
According to a recent study by the National Law Journal and ALM Legal Intelligence, the average cost to see an attorney is $338 per hour, and the average cost to resolve a legal issue is $5,098.* With prices like these, many employees either can't afford the cost of an attorney or end up even more stressed-out worrying about how they are going to pay their legal bills.
It's no surprise, then, that many employees choose to forgo legal representation and try to handle these matters by themselves. This do-it-yourself approach can often backfire, causing employees to need more time off work and raising stress levels even more. In fact, many employees who handle legal issues on their own end up feeling they would have had a more successful outcome if they'd hired an attorney.
How does a legal service plan help employees?
Employers can help offset some of the this by offering a voluntary group legal services plan. These plans give employees peace of mind by providing them access to quality attorneys and the help they need for legal matters. Employees can choose an attorney from a network and get everything taken care of quickly and affordably, sometimes without ever having to meet in person. Many legal plans give employees the option to work with their attorney via phone or email, and the attorneys can even appear in court on behalf of their client.
These plans are easy to use and affordable, with everything being covered by a flat monthly fee. Employees typically make payments through payroll deductions, and there are no co-pays, deductibles or usage limits. For a small monthly fee, employees can access attorneys as if they were on retainer and can contact them as often as needed for covered legal matters.
Group legal service plans typically provide coverage for a wide variety of legal issues, including:
·         Wills and estate planning documents
·         Real estate matters
·         Debt issues
·         Traffic defense
·         Family law
·         Power of attorney
·         Identity theft
·         Elder-care matters
How does a legal service plan help employers?
Benefits such as these give employees the confidence they need to feel they can handle their financial and legal matters, whether planned or unexpected.
Employees aren't the only ones who benefit from group legal services plans. In fact, employers also see the stress-relief and cost-saving benefits, including increased productivity and employee retention. Even better, because these plans are 100% paid for by employees, employers won't have to tap into their benefits budget to offer one.
Among employees who have a legal plan, re-enrollment rates are high year after year, with an average of 86% of those who enroll in the plan staying in it.** This shows that employees really value the legal plan once they have experience with it, even if it's not a top priority when considering benefit their benefit options. Legal plans are a simple, cost-effective way to provide value to any employer's benefit plan.
What to look for in a legal service plan
There are many different options for legal plans, but they are not all created equal. When evaluating legal plan providers, it's essential for employers to consider several important factors.
Are legal services fully covered?
Services included in the plan should be covered from start to finish. Beware of plans that only offer partial coverage, which can result in frustration and extra out-of-pocket costs for employees.
Is there a limit to services?
Employees should be able to use the plan as much as they need for covered services throughout the year. Avoid plans that have hour limits, page limits or frequency restrictions.
Does the plan let employees choose an attorney?
It's crucial to give employees access to a large network with highly experienced, pre-qualified attorneys. Some plans will also allow employees to use an attorney outside of the network and be reimbursed for their services. When possible, it's best to give employees as much choice as possible.
Flex is proud to offer the MetLaw® legal services plan for employers with 2 to 99 employees. With MetLaw, small businesses get an easy-to-implement, voluntary benefit that provides employees with convenient, professional legal counsel—at virtually no cost to their organization. 
Learn more about MetLaw at one of our upcoming webinars.
Learn more about the ways legal plans improve employee wellbeing.
* Average hourly rate of $338.00/hour based on years of legal experience, National Law Journal and ALM Legal Intelligence, Survey of Law Firm Economics (2016). ** Hyatt Legal Plans internal data, 2017