Medicaid Continuous Enrollment Coming to an End
Posted on January 18th, 2023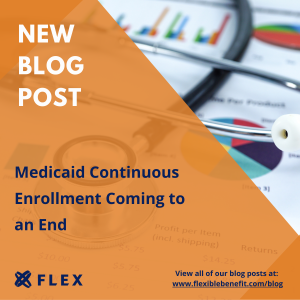 At the start of the COVID-19 pandemic in 2020, Congress enacted a law called the Families First Coronavirus Response Act (FFCRA). One of the provisions of the FFCRA included a requirement that state Medicaid programs keep individuals continuously enrolled in coverage through the end of the month in which the COVID-19 public health emergency (PHE) ends. In return, state Medicaid programs have received enhanced federal funding.
At the end of December 2022, Congress enacted a spending bill which calls for an end to the continuous enrollment provision (even though the PHE is still in effect). Beginning in April of 2023, states can again start to redetermine eligibility for Medicaid, which is primarily based on the income and assets of individuals and families. The enhanced federal funding will also be phased out by the end of 2023.
It's estimated that Medicaid enrollment has increased by nearly 20 million people since the start of the pandemic. This, at least in part, is attributed to the continuous enrollment provision of the FFCRA. Total Medicaid enrollment was around 91 million people as of September 2022.
Once states begin redetermining eligibility for Medicaid, it's estimated that anywhere between 5-14 million people will lose their Medicaid coverage. For example, some individuals may no longer qualify because their income exceeds that necessary to qualify for Medicaid.
Those individuals who lose Medicaid coverage will need to seek alternative insurance options or they run the risk of being uninsured. A loss of Medicaid coverage creates a special enrollment period for group health plans, and it also creates a special enrollment period in the individual market.
Health Insurance Marketplaces (Marketplaces) are likely to see the most enrollments from those individuals losing Medicaid coverage. While their income may now be too high to qualify for Medicaid, several individuals may still qualify for generous advanced premium tax credits (APTCs) on a state or federal Marketplace. It's estimated that 4 out of 5 people receiving APTCs can qualify for a Marketplace plan that has a premium of $10 per month or less; however, most Marketplace plans are going to have higher cost-sharing requirements compared to that of Medicaid.
This change will certainly be something to monitor.