New Smart App from Flex Empowers Employees to Make Better Healthcare Choices
Posted on August 13th, 2020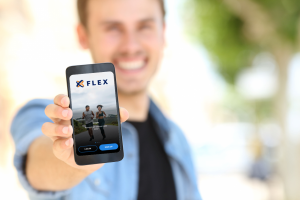 Technology has influenced employee behavior and changed expectations. They are no longer comparing good and services, but instead experiences. As a result, they are demanding innovation, engagement, and personalization across every aspect of thier lives, including healthcare.
As a Benefits Administrator, Flex is committed to providing innovative solutions that deliver the best value to our clients. With this goal in mind, we have recently launched a new, enhanced mobile app for all Flex clients with Flexible Spending Accounts (FSAs), Health Savings Accounts (HSAs), Health Reimbursement Arrangements (HRAs) and/or Commuter Accounts. 
The new Smart App, called My Flex Account Mobile, uses smart technology to give employees personalized, proactive recommendations to help them better navigate their healthcare journey. In addition to providing access to their Flex Accounts, the new My Flex Account Mobile app helps employees get the most value from every healthcare dollar they spend by giving them access to low-cost, high-quality options that make them smarter consumers of healthcare – spending less now and saving more for the future. 
New features include: 
A modern mobile interface that integrates new health management capabilities with powerful self-service capabilities 
 
Data-driven tools, including a personalized Smart Score, that guide employees to make informed decisions about where to best spend and save their healthcare dollars 
 
Cost and quality insights that allow users to better search for procedures and providers based on their specific medical plan 
 
A virtual medicine cabinet for managing monthly drug costs 
 
Long-term savings recommendations based on known chronic conditions 
 
Personalized opportunities feed to help maximize account value and improve their Smart Score 
To learn more about the new Smart mobile app, visit our My Flex Account Mobile Landing Page. 
We are extremely excited about this enhancement and believe it will revolutionize the Flex employee experience. If you have questions, please feel free to contact us at 888-345-7990.