Posted on April 6th, 2020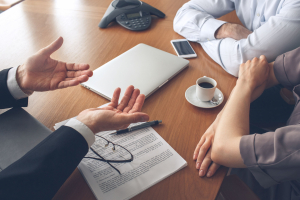 Millions of Americans have already lost their jobs due to the coronavirus crisis and some experts say the worst is yet to come. According to a recent Federal Reserve estimate, the coronavirus economic freeze could cost 47 million jobs and send the unemployment rate past 32%.
For many Americans, a loss of employment also means a loss of health insurance coverage. Losing coverage due to a termination of employment, or a reduction in hours, creates a qualifying event that will allow individuals to purchase an individual health plan, either On- or Off-Exchange. However, for those who don't qualify for subsidies, the loss of income could render these polices too expensive.
Short-Term Medical (STM) plans may be a good alternative solution for individuals seeking affordable coverage. These plans were designed to provide individuals with temporary medical coverage when they are between health plans, outside of enrollment periods, and need some coverage in case of an emergency. These plans have lower premiums than traditional ACA plans, so they may be an attractive option for people who have lost their employer-based coverage due to the Coronavirus pandemic.
The maximum duration of coverage varies by state but is generally between 30 and 364 days. For example, in Illinois, individuals can be covered under one STM plan for up to 180 days. If coverage is still needed after the 180-day duration, they can get a policy from a different carrier for up to another 180 days. In Texas, STM plans can have initial terms of up to 364 days and can be renewed for up to 36 months. Many carriers can issue effective dates as early as following day.
As a health insurance broker, you will probably get many questions from individuals who have lost coverage through their employer and are looking for an affordable solution. Before you recommend a Short-Term Medical plan, it's important that you understand how these plans work and how they differ from ACA plans.
What do Short-Term Medical plans cover?
STM plans are less expensive than traditional health insurance plans because the coverage they provide is not as comprehensive. These plans are not subject to the ACA, which means that they do not have to cover all the essential health benefits that they ACA requires. It also means that insurance companies can base eligibility for coverage on pre-existing conditions.
Although coverage varies by carrier and plan, STM plans typically provide some level of coverage for: preventive care, doctor visits, urgent care, and emergency care. There may also be coverage for prescriptions. Some plans include a provider network with discounts or higher coverage rates for visiting network providers.
Is a STM plan right for your client?
STM plans were created to help fill temporary gaps in coverage that can occur in certain situations. They are not intended to be a permanent substitute for traditional health plans. For individuals managing chronic health conditions, STM plans would not be a good option, as most do not offer coverage for pre-existing conditions and many have limited coverage for most services.
For generally healthy individuals who cannot afford the cost of an ACA plan, STM plans may be a viable option to provide limited coverage in case of an emergency. Those who are currently uninsured and don't have a qualifying event to open an ACA special enrollment window, may also benefit from a STM plan to help hold them over until the next open enrollment period.
What are the pros and cons of STM plans?
If you're considering whether a STM plan is right for your client, here are some pros and cons:
Pros:
Designed to fill short-term gaps in coverage

Availability to cancel coverage without penalties

Many different plan designs are available, depending on insurance carrier
Cons:
No coverage for pre-existing conditions

Limits on maximum benefit amount

Coverage is not mandated or standard, so plans vary greatly in covered services and costs with little government oversight
STM plans are not a good fit for everyone. For comprehensive coverage and benefits, the first choice should always be a traditional ACA plan. The premiums for these plans are generally substantially higher than for a STM plan, but subsidies are still available for those who qualify,
These subsidies may cover up to 100% of the premium and may even cover some deductible and out-of-pocket expenses. In 2020, a single person with an income of $49,960 or less ($103,000 for a family of four) may be eligible for subsidized coverage. Medicaid is also an option for families and individuals whose income might be too low for a subsidy.
If you'd like more information about the insurance options available to your individual clients, you can visit our COVID-19 Individual Market Resources page or view a recording of our recent webinar on the subject.
At Flex, we know that these are difficult times for everyone, and we are here to help. If you have questions or need advice on the best way to assist your clients, please do not hesitate to reach out to our sales team. They can be reached at 888-353-9178 or via email at indsales@flexiblebenefit.com