What Small Businesses Really Think About Healthcare
Posted on September 11th, 2019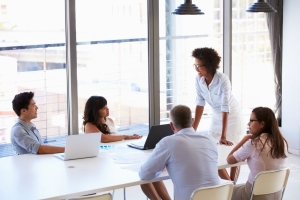 Think you know how your small business clients feel about healthcare benefits? As their trusted advisor, you probably have the best perspective. But, some of the findings from the latest MetLife and U.S. Chamber of Commerce Small Business Index may surprise you.
Each quarter, the Small Business Index takes the pulse of American small business owners, measuring how they feel about the economy, their businesses, and key issues. In the second quarter, 2019 Index, the research did a deep dive on the topic of healthcare and produced a few key insights.
1 in 5 small businesses say they don't have enough information to make informed decisions.
The biggest challenge? Exploring options and making decisions about healthcare benefits takes up a lot of time. Sixty-nine percent of businesses say the process is time-consuming, with 42 percent strongly agreeing with this sentiment.
Benefits brokers, consultants, and agents are the most common resources for small businesses as they navigate the healthcare benefits decision-making process.
Advisors seem to be providing helpful information. Sixty-seven percent of small businesses say they're able to stay informed about changes in healthcare laws and regulations that could impact their business.
Not surprisingly, decision-makers rate low premiums and low out-of-pocket costs like copays and deductibles as the most important criteria when selecting a healthcare plan. But larger small businesses also cite flexibility and variety of choices as a priority.
Check out the full report for a breakdown of the decision-making priorities by region.
Less than half of small businesses say they're able to provide good healthcare options to their employees.
Most small businesses – 66 percent – are familiar with more traditional forms of healthcare coverage options, such as traditional group health insurance. They're less familiar with options like health savings accounts, group coverage health reimbursement accounts, or association health plans.
Bottom line, 57 percent agree the cost of healthcare takes attention away from other important business priorities.
For more insights, including breakdowns by industry and geography, take a look at the complete findings from the Q2 2019 MetLife and U.S. Chamber of Commerce Small Business Index.
Looking to win more business this 4th quarter? Flex can help!