Top 5 Objections Faced by Insurance Brokers when Prospecting—and How to Overcome Them
Posted on August 8th, 2018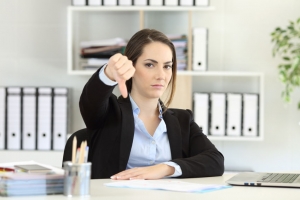 If you were to make a list of your favorite things to do, prospecting for new group health leads would probably come in just behind getting a root canal. We get it, prospecting can be tough. It takes a lot of time and effort to be successful and it's easy to get discouraged by poor response rates. Even if you can get past the caller ID or administrative assistant and actually speak to a decision maker, you're probably going to get more negative responses than positive ones. Let's face it, rejection is a natural part of the process!
Still, even if you're faced with a "no" right off the bat, that doesn't mean that you can't still turn things around. If you're ready with an answer to the most common objections, it may just be the thing to help you gain the attention of a potential client. Flex has put together a list of some of the most common objections brokers hear from group prospects—and how you can counter them.
Objection:  Our renewal is coming up soon.
Counter: Fantastic! This means health insurance is on everyone's mind. We should use this time to compare other options available to you. I'm confident that I can help you find some money-saving alternatives.
Objection: Our renewal isn't for a while.
Counter: Fantastic! This gives you ample time to review and discuss alternative options, come renewal time. Also, keep in mind that you can change carriers/brokers at any point. You are not locked into any contracts.
Objection: We're happy with our current broker.
Counter: I completely understand you have a relationship with your current broker. However, if I could show you a product that could potentially save you 25% on premium, would that pique your interest to at least learn more about it?
Objection: We're locked in with our current plan/carrier/broker.
Counter: Quite the contrary. Yes, your rates are locked in for the year. However, you can change brokers/carriers at any point during the plan year.
Objection: We're not interested.
Counter: I understand you may not be open to changing any relationships. However, I'm only looking to schedule a meeting to discuss products that you may not be aware of. For example, a product that, on average, has been saving my clients 25% on their premium. Do you see any reason as to why that wouldn't be beneficial of your time?
It's no secret that prospecting is challenging, and it can sometimes feel like a lot of work for little payoff. Discipline and persistence can go a long way, but you also need to make sure you're delivering the right message. If you're armed with the right response to the most common objections, you'll be better positioned to turn that no into a yes.
Want to grow your business with Flex?
Reach out to a Flex Sales Consultant to discuss how we can take some of the operational burdens off your shoulders, allowing you more time to focus on sales opportunities.
Contact us today to get started!