5 Fresh Conversation Starters
Posted on June 18th, 2019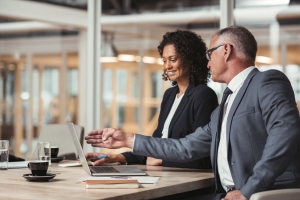 Showcase the Power of Bundling
A strategic approach to benefits is essential as your clients compete to attract and retain top talent. While that's a given, each client's objectives and benefit offerings are different. Here are five fresh angles to help you tee up the right conversation about the benefits of bundling at your next client consultation...and the one after that.
1. Diversify
Conversation starter: The workforce is more diverse than ever. For the first time there are 5 generations in today's workforce—with Millennials becoming the largest portion as of 2016.(1) With increasingly diverse needs, offering a wide range of benefit choices is key. Bundling complementary coverage makes sense. For example, with Disability benefits covering up to 60% of income, bundling the coverage with voluntary options for Accident, Critical Illness and/or Hospital Indemnity benefits can give employees access to coverage that helps fill the income gap when they need it most.
Did you know?
Across generations, employees value having these types of choices. 65% say non-medical benefits like Critical Illness or Accident coverage help to limit out-of-pocket expenses.(2)
2. Meet employees where they are
Conversation starter:  Today's employees are used to having choices. Tailored solutions range from news feeds to online shopping and everything in between. The desire for choice applies to benefits, too. 73% of employees say that having flexible benefits they can customize to meet their needs would increase their loyalty to their employer. (2)
Making non-traditional benefit bundles like Legal Services and Auto & Home available at the workplace can be a stand-out value add.
Did you know?
82% of employee have been involved in a legal issue in the last 5 years.(3) Legal Services plans cover a range of personal legal needs that all employees can use. Examples include buying or selling a house, wills and estate planning, and identity theft issues.
3. Keep it productive
Conversation starter:  Financial stress takes a toll and has an impact on work performance. Nearly 7 in 10 workers said they have used time during the workday to deal with personal financial matters.(4) Benefits can help minimize distractions and keep productivity up. Employees recognize the value, with 71% saying they worry less about unexpected health and financial issues because of the benefits they get through the workplace.(2)
Access to coverage options like Accident, Critical Illness insurance or Legal Services can help take the pressure off.
Did you know?
Roughly 1 in 5 people with health insurance report problems paying medical bills.(5) Accident, Critical Illness and Hospital Indemnity insurance give employees the financial protection to absorb expenses like copays, deductibles, and more. Benefits are paid no matter what medical covers, and employees can spend the money as they choose.
4. Keep it budget friendly
Conversation starter: Cost is always a concern—for employers and their employees. Bundling benefits can offer options to help stabilize the company budget with rate certainty options, including rate guarantees and rate caps. For employees, voluntary benefits offer valuable coverage options at competitive group rates.
Did you know?
Employees are willing to pay. 60% are willing to bear more of the costs in order to have a choice of benefits to meet their needs. That percentage jumps to 84% for young parents looking to address family needs.(2)
5. Benefits matter
Conversation starter: Competition for top talent is at its peak, and finding skilled workers is a challenge for many industries. Attracting and retaining employees is more important than ever to business success. A strategic approach to refreshing and enhancing a company's benefits program plays a critical role in both recruitment and loyalty.
Did you know?
62% of employees say that employee benefits were an important reason why the came to work for their employer.(2)
Find out how Flex can help you put the power of bundling to work for your clients!
Pew Research Center, 2018
MetLife's 16th Annual U.S.. Employee Benefit Trends Study, 2018
Survey conducted by ORC International on behalf of Hyatt Legal Plans, a MetLife Company, July 2017
Combatting the Effects of Employee Stress, BenefitsPRO, May 25, 2016
Kaiser Family Foundation / New York times Medicare Bills Survey, 2016