Top 5 Probing Questions for Group Health Sales
Posted on September 25th, 2018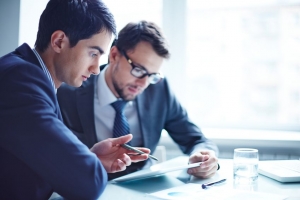 You did it!  You followed our tips for generating leads, and you overcame your prospect's objections, and now you've got a face-to-face meeting with a potential new client. Your hard work is beginning to pay off, but you're not home-free yet. You still need to nail your sales pitch and turn that potential client into an actual one.
When it comes to employee benefits, employers know that a good broker can make or break their benefits experience. They're looking for someone with industry expertise who also has their best interests at heart. After all, the relationship doesn't end after the health plan sale. A good broker will continue to work with the employer and manage the plan throughout the year.
So, what's the best way to show that you're the right person for the job? How do you stand out from the competition and win the business? The best strategy is to ask your prospect questions and then really listen to their answers. If you ask the right questions, you'll put yourself in the perfect position to succeed.
Use the following probing questions to gain more in-depth information about your prospect upfront.  This will help them think about the bigger picture while simultaneously providing a glimpse of the value you can provide to them as an industry expert.
How often do you see your broker? When was the last time you met?


There are brokers out there who only bother to check in with their employer clients at renewal time. You know that it's crucial to check in on a regular basis throughout the year. This will not only strengthen the relationship with the

client,

but also assure that you'll be the first to know when needs within the company are changing. If their current broker only checks in at renewal time, and you are willing to take on that business and provide a better experience with more follow up, this may be your opportunity to work with them.


 

When is the last time your broker has done a billing audit for you?


It's definitely a best practice to make sure that your clients are not overpaying for their coverage. It also shows that you are concerned for their company's wellbeing and willing to go above and beyond to protect their interests. Offering additional audits as part of your regular service experience will make you stand out from the competition.
 

 

Would you be interested in a full compliance audit? Do you have an updated POP and/or Wrap Document?


Many small employers are as up-to-date on compliance issues as they should be. You can bring tremendous value by becoming a trusted resource for compliance questions. Offering a diversified portfolio of compliance services will better serve your prospects and can help turn them into clients.
 

Are you familiar with this new type of health plan/product? 


Stay one step ahead of the competition by educating your prospects on products that their broker may not have. If there is a new or popular product that you are up-to-speed on, don't be afraid to target in on it as a reason to work with you.
 

What are the main challenges you face with your group benefits, besides cost?


A well-rounded and successful benefits package is about more than just cost. Employers and their employees have many unique needs and challenges that go beyond price. Gathering all the major pain points from the start can help you quickly advise better alternatives, especially when it something that may be more specific to the needs of that particular group.
Winning a new employer client takes a great deal of time and effort, but if you're willing to put in the work, you will reap the rewards.
Want to grow your business with Flex?
Reach out to a Flex Sales Consultant to discuss how we can take some of the operational burdens off your shoulders, allowing you more time to focus on sales opportunities.
Contact us today to get started!
Learn more about what we can do for you at www.flexmarketplace.com