The Top 5 Reasons to Sell Ancillary Products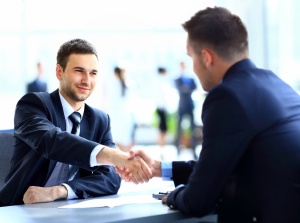 As a health insurance producer, you're always looking for ways to increase your income and grow your book of business. Nowadays, with the ACA wreaking havoc and benefits budgets being slashed left and right, this can seem like an uphill battle. That's where ancillary products come in.
With so much focus on health plans in recent years, ancillary products are often more of an afterthought than an active component of sales strategy. Well, it's time to give them another look. 
Here are the top 5 reasons to sell ancillary products:
Increased commissions. By adding ancillary products to an existing medical case, you can increase your commission by as much as 30%. Here's an example of the ancillary commission potential for a typical group.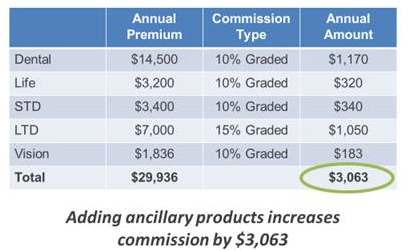 Employee retention and candidate attraction. Adding ancillary benefits can help your employer clients attract and retain the best talent. Employees who are happy with their insurance plans are more likely to stick around and report overall job satisfaction. Plus, happy employees are more productive at work and miss less work overall.
Lower medical premiums. Many insurance carriers provide incentives to groups who add ancillary lines with their medical plans. Some carriers will provide wellness credits and rate relief when ancillary lines, primarily dental, are added. Others give a PEPM premium credit for employees who elect ancillary coverage with their medical plan.
Minimal service needs. Compared to medical plans, ancillary products require little to no service on your part. These plans often seem to take care of themselves, leaving you more time to focus on other aspects of your business.
Client retention. The more lines of coverage an employer group has with one insurance producer, the less likely they are to jump ship for another agency. Competing agents will often try to use ancillary coverage to get their foot in the door and eventually try to take over the medical plan. The more ancillary lines you have in place, the easier it is to keep your competitors out.
Ancillary products are a great way to bring value to your employer clients and help fill any gaps in their benefits package. Since these plans can often be provided at little or no cost to the employer, they are also an easy upsell. Even better, adding ancillary products will help strengthen your client relationships and, most of all, increase your income.